Premises Liability Attorney
Get Help With Your Slip And Fall Case Today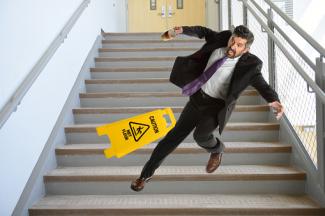 A slip and fall injury is a common occurrence with thousands of claims made each year. Many victims suffer serious, life-altering injuries that can even result in wrongful death. Unlit stairwells, wet floors, and construction site defects can often have catastrophic results. You should know what to do in the event of a slip and fall accident. Consult an experienced slip and fall lawyer to determine whether you are owed damages for the negligence of a property or business owner.
How Can An Attorney Help Me?
A slip and fall personal injury attorney can help you understand the law. There are many factors to consider, such as previous complaints about an existing hazard, determining negligence of a business or property owner, and determining negligence, if any, of the individual injured. These are only a few of the factors that a personal injury firm will analyze when investigating your case.
Am I Entitled To Compensation?
There are several things your attorney will consider when determining if you could receive compensation. Did the property owner use their common sense? Was there something the property owner knew was dangerous? Did the property owner attempt to keep the property safe? Your attorney will ask these questions and more to help prove your case.
Call An Experienced Personal Injury Attorney Today
If you have been hurt in a slip and fall accident and believe the accident was caused by someone else's negligence, call an attorney for help. Call Gerald Furnell today at 816-554-3311 and get the help you deserve.
---
Office Contact Information
local: 816-554-3311
Fax: 816-554-3316
Lee's Summit Office Location
108 SE Eastridge St
Lee's Summit, MO 64063
Sedalia Office Location
501 South Ohio suite 200
Sedalia, MO 65301